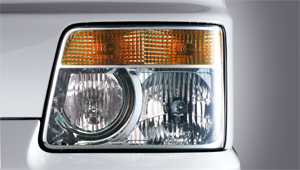 MFR Type Headlamps
The new headlamps on the Hyundai Heavy Duty Truck provide impeccable visibility in the dark. The new and effective clear-glass headlamps containing complex surface reflectors which further extend the range of the road illumination allow the light to be emitted to the best possible effect.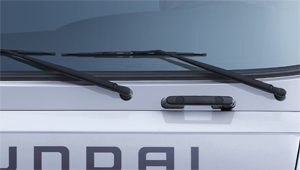 Front Grab Handles and Window Washer Nozzle
Front grab handles offer a secure grip for cleaning and maintenance operations. Window washer nozzles deliver all round visibility in any weather.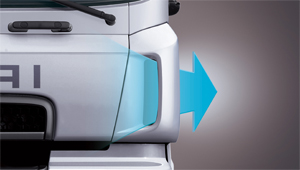 Corner Vanes
Cab aerodynamics is advanced by the addition of corner vanes which assist reducing wind noise inside the cabin.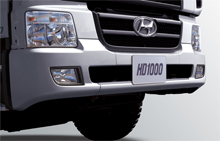 Wide Bumper and Fog Lamps
Large wraparound bumper offers 2-stage protection for excellent safety. Built-in foot steps clear angulated front fog lamps further enhance visibility.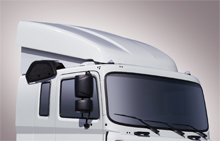 Roof Spoiler (Air Deflector)
The roof spoiler improves cab aerodynamics for better fuel economy at high speed cruising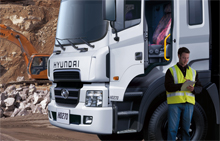 Wide Opening Door and Anti-slip Step
Hyundai Heavy Duty Truck's ergonomically designed access has all the necessary safety features such as anti-slip foot step and 90 degree opening doors.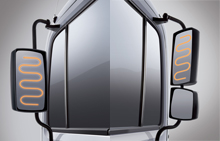 Large Outside Mirror
Large outside mirror provides a perfect side view, while their housings are rounded for reduced wind noise. Heating function is available as an option.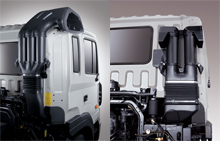 Air Intake Duct
Both the high mounted and low mounted air intake ducts on the cab had been designed to maximize the intake efficiency with large capacity, while the aerodynamic design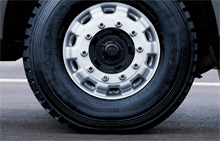 Radial Tires and Alloy Wheels
Radial tires offer longer service life, lower rolling resistance for better fuel economy, quieter performance and greater safety. What's more the alloy wheels are more efficient for long range trips as they increase the cooling capacity of tires and brake parts for enhanced braking power.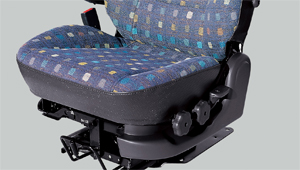 Air Suspension Seat
The air suspension seat offers an ideal driving position from pneumatic lumbar support and side contour adjustment for fatigue free driving. (Optional on all models)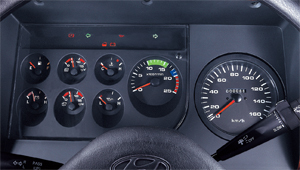 Gauge Cluster
The instrument cluster in the Hyundai Heavy Duty Truck stands out with its clear layout and high readability thanks to LED illumination.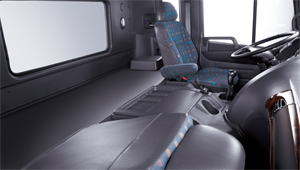 Wide and Long Sleeping Bed
The generously sized bed, clearly separated from driving space, offers cozy relaxation to the fatigued driver. A heating pad is provided for the driver's convenience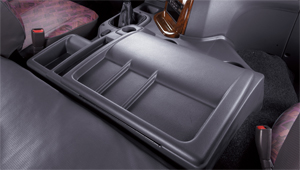 Centre Console Box
With various compartment in the Hyundai Heavy Duty Truck's cab, wide open stowage area is located in centre console for various small items which are required for your business.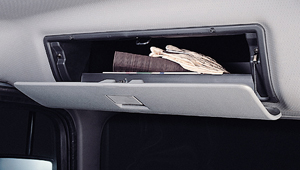 Overhead Console Box
The driver will find spacious stowage compartments above the windscreen, which offers sufficient space convenient in holding small goods, maps and various documents needed for your business.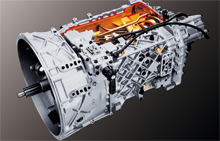 ZF 16-Speed Transmission
ZF transmission applied aluminum alloyed case for ultra light weight ensures good fuel economy and has superb durability and convenience for hard work.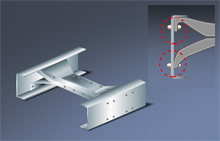 Crossmember Reinforcement
To achieve the highest possible rigidity and strength of frame for distributing payload, heavy duty crossmembers are added using all bolted construction technique.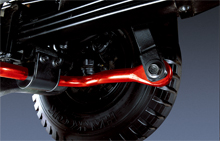 Front Stabilizer Bar
Front stabilizer bar increases structural rigidity to more effectively absorb vibration and road shocks.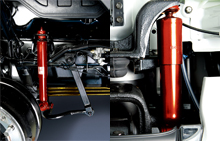 Shock Absorber
New hydraulic dampers improve steering and handling qualities for a more precise and comfortable driving.