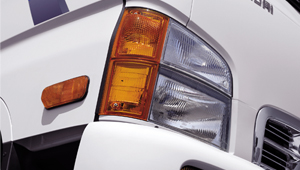 MFR head lamp
The stylish front headlights are also a major night driving safety feature as they feature Multi Focus Reflection Technology for clearer, wider, and more precise light projection.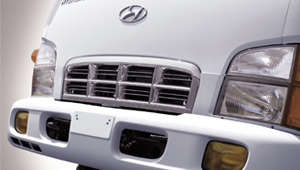 Function oriented radiator
More than a smart styling touch, the large aperture enhances cooling efficiency.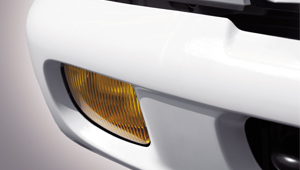 Clear recessed fog lamps
These fog lamps are available as an option. They improve driving safety in bad conditions, and are recessed into the generous front bumper to avoid incidental damage. (Optional)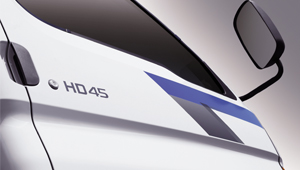 Side character Line
Side Character lines add a sporty, muscular note which defines the HD's dynamic and nimble image. (Deluxe Model)
Handy features help you work
We've made our decks to help make your job easier. For example, they're wider and longer than ever and include fold-down side and tail gates for extra cargo handling versatility.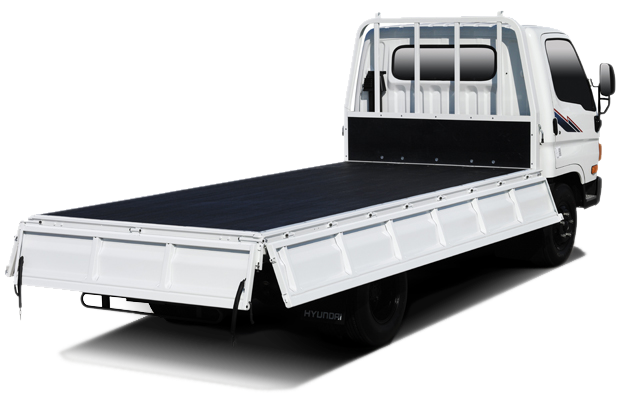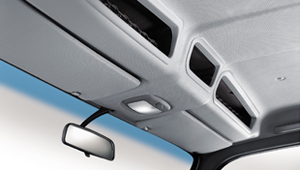 Overhead storage (option)
The overhead console provides deep, secure and capacious stowage for sunglasses, papers, maps etc., without impeding free movement in the cab.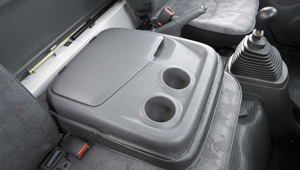 Center seat back Console
This is package optional for all DLX models. (Except Narrow Cab & Double Cab)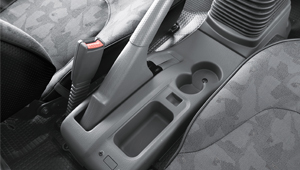 Console
Center console includes storage bin, coin slot and cupholders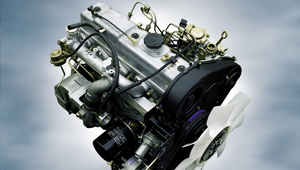 D4BB Engine
Hyundai HD45 gives the powerful performance which is combined with exceptional reliability and durability. D4BB diesel engine delivers 80 ps and 17 kg·m of torque. That's enough for a top speed of 114 kph, and the precise 5-speed transmission delivers acceleration to stay with the traffic. Like every Hyundai engine it's built to give years of reliable service, to save you money and increase operating efficiency.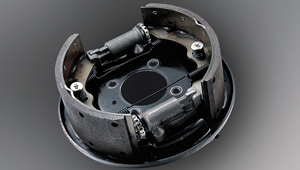 Larger brake lining
Generous 320 mm x 75 mm brake linings (with optional automatic adjusters) and the same 6.50 x 16 tire size at the front and back, give the HD45 real stopping power.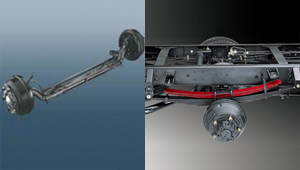 High capacity axle and leaf suspension
The higher capacity axle and leaf suspension of HD45 exhibits outstanding durability and rigidity and maximize load carrying performance.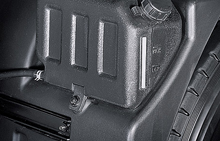 Radiator reservoir
Radiator reservoir is installed on the inner side of the fender and is easily checked and replenished.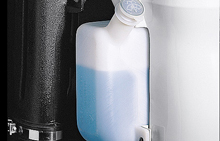 Washer Tank
Washer Tank is mounted in a safe and secure location outside the rear panel where it can be easily checked and replenished.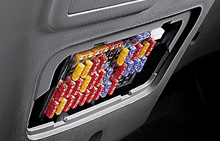 Fuse Box
Fuse Box is installed under the instrument panel and enables quick and easy check ups.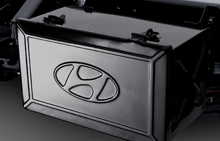 Tool box
Tool box provides easy and convenient access to tools.